About the Artists
Exhibits - Workshops - Lectures - Publications - Reviews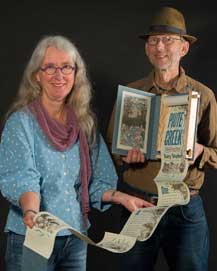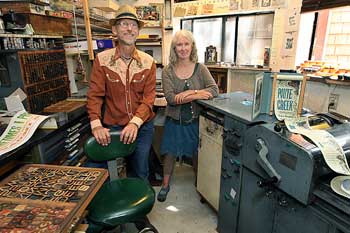 Peter and Donna Thomas are book artists from Santa Cruz, CA. They work both collaboratively and individually; letterpress printing, hand-lettering and illustrating texts, making paper, and hand binding both fine press and artists' books.
Peter Thomas was born in 1954 in Los Angeles. He attended the University of California at Santa Cruz where he studied the book arts with William Everson at UCSC's Lime Kiln Press and obtained a degree in Aesthetic Studies.
Donna (Millar) Thomas was born in 1957 in San Francisco. She attended Sonoma State University where she got her degree in Liberal Arts from the School of Expressive Arts with faculty that included the artist Jay DeFeo.
Peter and Donna first worked together in the early 1970s, making hand bound blank books with both cloth and leather binding which were sold at the Renaissance Pleasure Faire in California, where Peter (aka Peter Papermaker) and Donna taught people how to make paper by hand. In 1976, working with William Everson, they were inspired to establish their own "Press" which they called The Good Book Press, with the stated goal to make books in the tradition of the great private presses: limited editions of significant literary works that were made with the finest materials and produced with the highest standards of craftsmanship. Through the 1970s and 1980s, they followed this archetypal quest for beauty and perfection. Informed by the potential of word, image, shape and texture to create an illuminating or transformative experience, they created editioned letterpress printed books and hand lettered unique books in full size and miniature formats, making the paper, printing, and binding the books themselves.
This aesthetic continued to guide them through the 1990s as they worked in new formats made possible by personal computer technology, exploring non-traditional book structures and shaped book objects as both limited editions and one-of-a-kind books. They began to allow illustrations, binding structures, and ideas to be the driving forces of their books, rather than relying solely on literary sources. During this time period they also traveled extensively both to study the craft of papermaking and to teach and give talks about the book arts. Their 2000, "Ergonomics of Hand Papermaking" video documents and demonstrates production papermaking techniques re-discovered visiting European hand papermills. In 2002, Quarry Books published their "More Making Books by Hand: Exploring Miniature Books, Alternative Structures and Found Objects," a manual describing how to make the book structures they had developed during the previous decades' explorations. As editors for Quarry Books 2012, "1000 Artists' Books" they created a system to categorize artists' books by physical characteristics.
From 2010-2020 they traveled the USA in their artistic tiny home on wheels as the "Wandering Book Artists." On these trips they made collaborative art works with other artists across the country, as well as giving talks, workshops and demonstrations to both academic and community-based audiences. Between 2017-18 twelve university libraries celebrated the Thomas' 40-year anniversary of making books together by hosting retrospective shows of their work, and the University of Wisconsin - Milwaukee mounted a permanent digital exhibit of their books. (Click here to see the digital exhibit.)
In 2021 The Legacy Press published a bibliography of their books titled: Peter and Donna Thomas: Bibliography, 1974–2020. Each of the 634 books is described and photographs accompany most descriptions. Through the years spent practicing their art they have mastered the skills required to manifest their aesthetic visions with greater depth, and today continue exploring the artists' books' potential to alchemically engage and inspire both themselves and the viewer.
Major collections of their work can be found at: Stanford University, University of Iowa, University of Wisconsin Milwaukee, and Yale University. Extensive collections are held at Baylor University, The Huntington Library, Indiana University, Koninklijk Bibliotheek, Princeton, Swarthmore College, Texas Christian University, Temple University, University of California Berkeley, University of California Los Angeles, University of California Santa Barbara, University of California Santa Cruz, University of Kentucky, University of North Texas, The University of Vermont, and Vanderbilt University.
In addition to their career as book artists, Peter and Donna Thomas are avid nature enthusiasts and spend time each summer backpacking in the Sierra Nevada. In 2006 they rediscovered and retraced the 310-mile trip John Muir walked from San Francisco to Yosemite in 1868. They wrote a guidebook for walking from San Francisco to Yosemite following Muir's footsteps titled The Muir Ramble Route, which was published in 2010 by Poetic Matrix Press. They also compiled a first-person narrative of Muir's 1868 trip, using Muir's own words culled from his articles and letters, which was published by Yosemite Conservancy in 2018 as Anywhere That Is Wild: John Muir's First Walk to Yosemite. More information about this project can be found on their web site. http://www.muirrambleroute.com.
Summary of Professional Artistic Activities and Achievements:
Between 1978 and 2019, Peter and Donna's work has been included in over 240 exhibits. Highlights:
2017–2019 "The Work of 40 Years: Peter and Donna Thomas." Thirteen library venues, including University of Iowa, Swarthmore University, Michigan State University, University of Kentucky, University of Wisconsin-Milwaukee, Brigham Young University, University of Central Florida, University of California-Santa Barbara, Emory University, University of Utah, Washington University- St Louis, Baylor University, and Indiana University.
2015 Invited artist: "Error." 7th International Artist's Book Triennial, Vilnius, Lithuania.
2011 "Peter and Donna Thomas: Paper, Books and Passion." University of Colorado, Boulder.
2009 "Assemblage+Collage+Construction: A Collective View of Art." Santa Cruz Museum of Art & History.
2004 Invited artist: "Turning Pages." Wichita Art Museum.
2001 "Art Undercover." Santa Cruz Museum of Art & History.
1992 Invited artist. "American Book Arts." Istvan Kiraly Muzeum, Szekesfehervar, Hungary.
1989 "Het liep in de paperen." Koninklijke Bibliotheek, Den Haag, Netherlands.
1986 "Santa Cruz Printers." San Francisco Public Library.
1983 "Breaking the Bindings." University of Wisconsin-Milwaukee.
1977 – 78 "20 Years of Making Books." 5 venues including Dieu Donne Gallery, Swarthmore College, UCLA Research Library, San Francisco Public Library, and the Book Club of California.
Between 1995 and 2019, Peter and Donna gave over 200 lectures. Highlights:
2010–2019 Peter and Donna gave talks, usually titled "The Gospel of the Book According to Peter" or "The Book as Art," in over 100 venues while traveling as the Wandering Book Artists.
2017 The Ettinger Book Artist Series Lecture, University of Wisconsin-Milwaukee.
2015 "The Work of Peter and Donna Thomas." Steven Kanter Lecture on California Fine Printing, UCLA, Clark Library. 2011 "What is a Book? What is an Artists' Book?" Norlin Library, University of Colorado, Boulder
2005 "The Artist's Book: Four Dimensional Art." Book Forms Lecture Series, Emily Carr Institute, Vancouver, Canada
2003 "The Burning of Chinese Ceremonial Papers." IAPMA Conference, Geneva, Switzerland
2001 "The Literary Book as a Work of Art." Yale University.
1998 "Handmade Paper in Modern Books." Winterthur Library.
1996 "The Book as Art." Canberra College of Art.
Between 1977 and 2019, Peter and Donna have taught over 150 workshops. Highlights:
2010–2019 Peter and Donna gave a workshop titled "Exploring the Miniature Book" in over 50 venues while traveling as the Wandering Book Artists.
2010 "Making Artists' Books." John C. Campbell Folk School, Brasstown, North Carolina.
2009 "Ukuleles and More: The Found Object Book." Minnesota Center for Book Arts, Minneapolis.
2008 "Master Class: Book Arts." California Art Education Association's State Conference, San Mateo.
2003 "Exploring the Miniature Book." Center for Book Arts, New York.
2006 "Make Paper Make Books." Penland School of Crafts, Penland, North Carolina.
2000 "The Skills of the Vatman." IAPMA Conference, Spineto, Italy.
1999 "Letterpress Printing." Summer Writing Program, Naropa Institute, Boulder.
1997 "Innovations in Miniature Books." Columbia College Chicago, Center for Book, Paper and Print.
1995 "Papermaking and Non-Adhesive Bindings." Teknikon Natal, Durban, South Africa.
Between 1983 and 2018, articles about and reviews of Peter and Donna's work and vocation as book artists have appeared in over 50 publications. Highlights:
2018 "Piute Creek." Josh Hockensmith, Parenthesis: Journal of the Fine Press Book Association 35.
2015 "The Alder." Vessel, exhibition catalog, Guild of Book Workers, New York.
2010 "The Lifestyle of Peter & Donna Thomas." Kurashi no Techo, no. 44, Japan
2009 "The DaVinci Creed: A Pair of California Book Artists Keep the Renaissance Alive." Richard Goodman, Fine Books Magazine.
2008 500 Handmade Books, Inspiring Interpretations of a Timeless Form, Lark Books.
2007 "Peter and Donna Thomas." Peggy Townsend, Santa Cruz Magazine.
2003 "Magical Books: The Art of Peter and Donna Thomas." Artist Book Review 1, n. 10.
1996 "Peter Thomas." Anne Vilsbřll, Papir Mageri 3.
1998 "Almost Paper." Hand Papermaking 13, no. 1.
1994 "A Collection of Paper Samples from Hand Papermills in the USA." Bookways 7.
1990 "The Poet is Dead." Fine Print 16, no. 3.
1983 "A Fairy's Tale/The Farmer's Magic." Print News 5, no. 4.
Between 1988 and 2018, Peter and Donna have published over 70 articles. Highlights:
2018 "Scrolling Books." Bound & Lettered 15, no. 3.
2012 "Victor Hammer's Personal 'I.'" Parenthesis: Journal of the Fine Press Book Association 23.
2010 "Arch Shred: A Sustainable Fiber Source." Hand Papermaking 25, no. 1.
2006 "On Galleries and White Gloves." Ampersand: Quarterly Journal for the Pacific Center for the Book Arts 23 no. 4.
2003 "The Manifesto of a Book Artist." California State Library Foundation Bulletin, no. 74 (Fall/Winter 2002)
1999 "Old Ways, New Views: Photographic Processes on Handmade Paper." Hand Papermaking Paper Portfolios 4.
1994 "The Future of the Book as Art." California State Library Foundation Bulletin, no. 49 (October 1994)
1993 "Fine Bookmaking." The Private Library s. 4, 6, no. 2 (Summer 1993)
1992 "Reflections on Making Paper." California State Library Foundation Bulletin, no. 40.
1988 "The History of Papermaking in the USA 1931–1967." International Paper Historians Yearbook 7.
Between 1978 and 2013, Peter and Donna's books have received numerous awards. Highlights:
2013 The Alder. The Japanese Paper Place Award for Papermaking, Art of the Book '13, Canadian Bookbinders and Book Artists Guild (CBBAG).
2013 Tree. Miniature Book Society (MBS) Distinguished Book Award.
2000 Scrolling binding of James Joyce's Ulysses. Judges Distinction for Innovation Award, Helen DeGolyer Triennial Exhibition and Competition, Southern Methodist University (SMU), Dallas, Texas.
1998 Almost Paper. MBS Distinguished Book Award.
1997 MBS Norman Forgue Award for their work to promote the miniature book.
1997 Meditations at the Edge. Innovative Design Award, Helen DeGolyer Triennial Exhibition and Competition for American Bookbinding, SMU, Dallas.
Excerpt from the introduction of Peter and Donna Thomas' 1992 bibliography, Good Books:
The first thing everyone wants to know is, "How did you get started?" It's not a simple story, but life is that way. In high school I was on the pre-collegiate track, which did not allow much time for art classes. But I was interested in writing fairy tales, having long hair and wearing funny clothes. Perhaps these interests were what lead me to the Renaissance Pleasure Faire, where as a modern Don Quixote I found my destiny. When in college, I became got involved in the Faire as a volunteer actor, and with a couple of thousand other people I played a part in recreating an Elizabethan market village. What does this have to do with book arts? For me it was the beginning. Actors slept on hay bales and craftspeople had booths. I wanted a better place to sleep so I needed a craft. The only thing resembling an Elizabethan craft I could do was write fairy tales, so I applied for a booth where I would write and print a fairy tale with four beginnings, four middles and four endings, and teach the visitors how to bind it into a book. My proposal was accepted. I wrote the story and got a friend to print it at his fathers print shop. Then I had to learn how to bind books.
I went to the library, to the 600 section, to find some books on bookbinding. Of course I got distracted and found myself reading a book titled, Papermaking: The History and Technique of an Ancient Craft by Dard Hunter. When I read that the first papermill in England was built in 1492, I thought to myself that papermaking would be even better than bookbinding as a craft at the Faire. But since I had already committed to bookbinding I thought, "I'll just learn both." My early follies make good stories to tell on long evenings, but now I will only say that as I taught, I learned.
I had as my goal to be able to make paper and bind books as they did in the sixteenth century. I don't know how I actually learned to make books. Mostly it was just doing it, being prodded on by the childhood memory of my neighbor saying again and again, "If you are going to do something, do it right." One day, between teaching classes, I made a few blank books. They sold immediately and so I made more, and more, and more. An old bookbinder stopped by and shared with me his wisdom, "You can't buy experience." I didn't buy it, my customers did.
At the same time Donna was attending Sonoma State University, taking art classes. She was roommates with my sister and together they came to the Faire to help me out, teaching papermaking and selling my blank books. I taught Donna how to sew books. She learned so fast that before I knew it, she was binding books with me.
I continued my eclectic studies at UCSC. In the McHenry Library foyer stood an old acorn shaped iron handpress. William Everson, master printer and poet laureate of Kresge College who dressed in buckskin and bear claws, taught students to use the press while printing fine press books. I didn't know what "fine press" was, but thought to myself, "Since I am making books and paper, I should know how to print." With several other students I worked as an apprentice. No questions were asked and no answers were given. Everson led us through the mysteries of the Black Art in silences broken by cries to the gods for mercy. In the end we knew typography and printing and the desire for perfection.
I bought my own press and with Donna's help I began to print; first a broadside and then when we had enough type, a book. Everson encouraged the printing of books, "It is by ephemera," he said, "by keepsakes, that both the amateur and the professional are today most easily seduced from the true end of printing..." We did not use a press name for that first book. But our second book, The Tale of Cara-sou and His Magic Word, had The Good Book Press on the title page. One of my favorite childhood fairy tales was The Good Sword. In this story a poor shepherd, with his dying breathd bequeaths his son the sword which hangs over thier doorway, saying it will never fail him in time of need. We wanted a press that would never fail us and so we called our Challenge MP15 proof press the Good Book Press. The name also stood to remind us of our goal: to make good books. With this in mind we printed the following announcement: It is with great pleasure that we take this opportunity to acquaint you with the work of Peter and Donna Thomas who produce books and paper under the imprint of The Good Book Press. Were one to ask them what makes a Good Book, they might reply, "Beautiful paper, crisp printing, a binding that opens easily..." It is their goal to create books in the tradition of the great private presses: deluxe, limited editions, made of the finest materials, produced with the highest standards of quality. Peter makes the paper from cotton rags. These are pulped in a hollander beater, then mixed in more water. Using a mould & deckle the fiber is separated from the water. It is then couched onto a felt, pressed & hung to dry. Donna cuts linoleum for illustration or ornament. Together they set the type which is letterpress printed on a hand operated printing press. They also hand bind the books. Pages are folded and sewn together using a needle & thread. The bindings are leather or other quality materials, constructed in traditional methods which insure the book will open easily and lay flat. They employ their skills making miniature books (under three inches), larger books, and broadsides (posters with type and illustration). Because they execute every aspect of manufacture, all their work is unique and each piece can easily be recognized as another fine product from The Good Book Press.
In 1980 Donna and I made a small book, Yotan's Vision from scraps of English handmade paper salvaged from the Lime Kiln Press's Granite and Cypress. I showed it to Muir Dawson who I had met through our mutual interest in papermaking and the coincidence that his son was in my graduating class at UCSC. He was not very interested but suggested I show it to his brother. Without much hope I showed it to Glen Dawson. He looked at the book, pulled out a ruler, measured it and said, "If you can make it a quarter of an inch shorter I will buy twenty." I was in shock. Luckily we had not bound the whole edition, and although we didn't want to trim the perfectly proportioned margins, we made him twenty books. We were now miniature book artists and our lifes were changed forever.