• Ellen Grace O'Brian, Kevin Opstedal, Ziggy Rendler–Bregman and Elliot Ruchowitz–Roberts
Tuesday, July 11, 2017 at 7:30 PM, Bookshop Santa Cruz, 1520 Pacific Ave., Santa Cruz 95060. [ map ]. $3 suggested donation.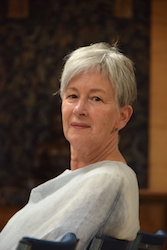 Yogacharya Ellen Grace O'Brian is a spiritual teacher, poet, writer, and spiritual director of Center for Spiritual Enlightenment—a Kriya Yoga Meditation Center in San Jose, California. Her published works include Living the Eternal Way: Spiritual Meaning and Practice in Daily Life; Living for the Sake of the Soul; and three volumes of poetry including the award-winning 2017 release from Homebound Publications: The Moon Reminded Me. She is editor of Enlightenment Journal and host of The Yoga Hour, a weekly podcast. She is a longtime resident of Santa Cruz along with her husband Michael. She can be found walking along West Cliff on most days listening to the poetry of this place.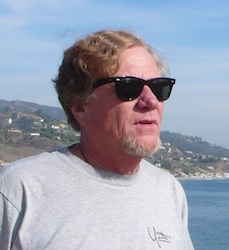 Kevin Opstedal is the author of Twenty-seven books and chapbooks including two full-length collections, Like Rain (Angry Dog Press, 1999) and California Redemption Value (Uno Press, 2011). His latest publication is a collection of new and selected poems: Pacific Standard Time (Ugly Duckling Presse, 2016).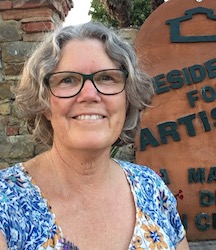 Born in Los Angelez, Ziggy Rendler-Bregman received her B.A. in Aesthetic Studies from UC Santa Cruz. She has lived and worked in Santa Cruz for more than 40 years as a visual artist, poet, and community organizer advocating for the restoration of art and music education in public schools. Ziggy's recently published collection of poems, The Gate of Our Coming and Going, includes 18 full-color monoprints. She is currently working on a new visual manuscript based on fragments of narrative and devotional paintings and decorative ceramics found in Italy where she has just completed an artist residency.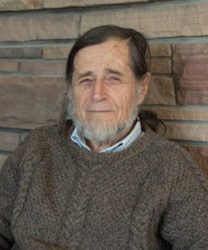 Elliot Ruchowitz-Roberts is the author of White Fire, published by Ping-Pong Free Press. He is Professor Emeritus at Monterey Peninsula College where he taught composition, literature, public speaking, and humanities for 32 years. He now serves as Vice President of the Robinson Jeffers Tor House Foundation in Carmel, coordinates the Foundation's annual Prize for Poetry and its annual reading series, and serves as a tour docent. Poet-in-the-Schools for the Carl Cherry Center for the Arts, he presents poetry workshops in Monterey County high schools and coordinates the annual Monterey County High School Poetry Awards.
Sunday, July 16: Poet/Speak Open Reading

• Poet/Speak Open Poetry Reading with All Open Reading.
Sunday, October 16 at 2:00 PM Santa Cruz Main Library, Upstairs Meeting Room, 224 Church St., Santa Cruz 95060. [ map ] Free. Open reading signup begins at 1:50. All ages welcome. Read your own or favorite poems. 3-to-5-minute limit. Hosted by Len Anderson.
Links to the Poetry Santa Cruz Website