Featuring Santa Cruz County Poet Laureate Robert Sward, poets Danusha Laméris, David Swanger, Farnaz Fatemi, Stephen Kessler, singer songwriter Armando Alcaraz, and our headliner, poet Alison Luterman.
Saturday, September 24, 2:00 to 4:00 pm in San Lorenzo Park, Santa Cruz. Free Admission. Books by the authors will be available for purchase with cash or check.

[ map ] The event will take place in the Benchlands near the river and near the pedestrian bridge linking San Lorenzo Park to South River St. Nearby parking is available in the River/Front Garage at 24 River St., and in metered spaces on Dakota Avenue, South River St., and River St.

75 chairs and 10 tables will be available for the event. The grass is also comfortable and blankets are welcomed.

Robert Sward has taught at Cornell University, the Iowa Writers' Workshop, and UC Santa Cruz. A Fulbright Scholar and Guggenheim Fellow, he was chosen by Lucille Clifton to receive a Villa Montalvo Literary Arts Award. Among his 30 books are Four Incarnations (Coffee House Press, 1991), Rosicrucian in the Basement (2001), Heavenly Sex (2003), God is in the Cracks (Black Moss Press, 2006), and New and Selected Poems: 1957—2011 (Red Hen Press, 2011). His forthcoming book, Love Has Made Grief Absurd, is a tragic-comedy, a monologue in the voice of a SF Bay Area artist as she struggles with the gradual loss of her faculties and, indeed, the loss of "herself" as she continues to live her life and create art.

Danusha Laméris's work has been published in American Poetry Review, Alaska Quarterly Review, New Letters, New York Times Magazine and The Sun and as well as in a variety of other journals and anthologies. Her first book, The Moons of August, was chosen by Naomi Shihab Nye as the winner of the 2013 Autumn House Press poetry prize and was a finalist for the Milt Kessler Book Award. A poem of hers received a special mention in the 2015 Pushcart anthology and her work has been featured by Garrison Keillor on The Writer's Almanac. She lives in Santa Cruz, California and teaches private writing workshops.

David Swanger is the author of Wayne's College of Beauty (MkBk Press, 2006) which won the John Ciardi Prize for Poetry and was a finalist for ForeWord's Best Book of the Year.

He has also won the Foley Award from America magazine, a National Endowment for the Arts Fellowship in Poetry and a grant from the California Arts Council. His other books of poems include This Waking Unafraid, Inside the Horse, and The Shape of Waters.

His poems are widely anthologized, have been read on Garrison Keillor's The Writer's Almanac, and have been the subject of essays. From 2012-2014, Swanger served as Poet Laureate of Santa Cruz County.

Armando Alcaraz uses original songs and music to facilitate transformation, integration and healing in contemplative contexts and as a tool for his leadership consulting practice. His songs have their roots in American, South American, and Mexican folk and traditional music.

Farnaz Fatemi is an Iranian-American poet, editor and writing teacher at the University of CA, Santa Cruz. Recent poems or lyric essays have appeared in Tupelo Quarterly, Delaware Poetry Review, Catamaran Literary Reader, and Red Wheelbarrow. She is anthologized in Let Me Tell You Where I've Been: New Writing by Women of the Iranian Diaspora and Love and Pomegranates: Artists and Wayfarers on Iran, and she was a finalist for Best of the Net in 2015. In addition to the world of good reading and writing, for most of every year, Farnaz is also consumed by heirloom tomatoes, raising hundreds of plants from seeds she has saved for over a decade. farnazfatemi.com

Stephen Kessler's recent books include Save Twilight: Selected Poems by Julio Cortázar (translation), Where Was I? (prose poems), Need I Say More? (essays), Scratch Pegasus (poems), and Forbidden Pleasures: New Selected Poems by Luis Cernuda (winner of the 2016 PEN Center USA Translation Award). As a journalist, most recently his op–ed columns have been appearing in the Santa Cruz Sentinel. From 1999 through 2014 he was the editor of the literary newspaper The Redwood Coast Review. www.stephenkessler.com

Alison Luterman is the author of three collections of poetry, The Largest Possible Life, See How We Almost Fly, and Desire Zoo, as well as an e-book of personal essays, Feral City. She lives and teaches writing in Oakland, and tends fruit trees and cats. She also writes plays, including a musical about kidney transplantation. Her husband is a musician and they give rocking house parties.

Presented by the Coastal Watershed Council, Poetry Santa Cruz, and Robert Sward.
Supported by a grant from Arts Council Santa Cruz County. Supported by Bookshop Santa Cruz.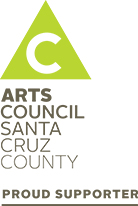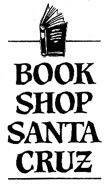 Poetry Santa Cruz events are supported, in part, by a grant from Arts Council Santa Cruz County. Some events are supported by matching grants to our readers from Poets & Writers, Inc.
Poetry Santa Cruz is also grateful for the support of its members and donors, In Celebration of the Muse, and those who donated in memory of Maude Meehan and Kathleen Flowers. The William James Association acted as our fiscal sponsor for our first four years. Readings are also supported by Bookshop Santa Cruz, Darling House, Cabrillo College, and KUSP. Membership premiums have been donated by Graywolf Press, the University of Pittsburgh Press, Robert Sward, Coffee House Press, Copper Canyon Press, and Farrar, Straus and Giroux.