Other Poetry Events around the Monterey Bay
Poetry Workshops
Looking Ahead
Become a Member of Poetry Santa Cruz and support our 2nd Tuesday reading series, Poet/Speak open readings, the Countywide High School Poetry Competition, Flor y Canto / Flower and Song, the Maude Meehan Memorial Poetry Reading, and the Morton Marcus Memorial Poetry Reading. Contact Poetry Santa Cruz: To SUBSCRIBE or UNSUBSCRIBE, ask a QUESTION, make a SUGGESTION, or to REQUEST LISTING on our website of your Monterey Bay poetry event, send an email to Len Anderson. This events email is reserved for events presented by or co-sponsored by Poetry Santa Cruz. We neither send emails for other organizations or individuals nor do we lend or sell our distribution list to other organizations or individuals.

Quote

…Our creativity is not a cute thing for weekend dabblers in the arts; it lies at the essence of who we are. We are all creators, and therefore we all have work—good work—awaiting us.….

—Matthew Fox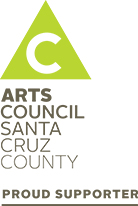 Poetry Santa Cruz is funded, in part, by a grant from Arts Council Santa Cruz County. Some events are supported by Poets & Writers, Inc. through a grant it has received from the James Irvine Foundation. Some readers have received support from the Porter College George Hitchcock Poetry Fund. Poetry Santa Cruz is also grateful for the support of its members and donors, In Celebration of the Muse, and those who donated in memory of Maude Meehan, Kathleen Flowers, Morton Marcus and Hermie Medley. The William James Association acted as our fiscal sponsor for our first four years. Our readings are sponsored by Bookshop Santa Cruz, Darling House, The Santa Cruz Museum of Art & History, Cabrillo College, and KUSP. Membership premiums have been donated by Graywolf Press, the University of Pittsburgh Press, Robert Sward, Donna Mekis, Coffee House Press, Copper Canyon Press, and Farrar, Straus and Giroux.