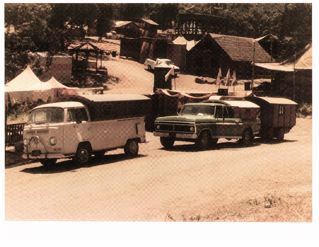 On Being a Papermaker at the Renaissance Faire
I was born Peter Thomas, I will probably die Peter Thomas, but for many years in between I was Peter Papermaker. I first visited the faire with my parents. Even then I loved the place, how it created a past, and I wanted to be apart of it. I gathered together some friends who did art work in High school, and applied applied as an artistic family, and were not accepted, which was smart on the part of the Faire. When I went to college in Santa Cruz, Jeff Gluckson, one of Cock and Feathers, lived on the same hall. I met Sandy and Billy, and other fair folk between weekends of the northern faire. I thought to myself, if they can be actors, so can I. At the time I was in a pre-punk band. One of the members, Gaza Gideon, had lived in LA and been to the faire. His girl friend was a belly dancer. He got everyone to agree to go, saying he would introduce us to Jamilia's belly dance troop. We came up with the idea of doing a human puppet show, wrote a script, took photos, applied and were accepted. Our music was all spontaneous, so we figured our acting should be the same. We never practiced.
I still remember my first night at faire. We had hopped a freight train in Watsonville (MIchael O'Sullivan, who dressed as a jester and sang with a high voice, was a conductor) and ridden to LA, somehow got our costumes and stuff to the faire, but we hadn't got our passes and didn't know how to get them, so we snuck in and slept in the hay toss. Watch out for the guards, I was warned. The smell of camomile, damp hay, full moon on flapping burlap always remind me of that first southern faire. It was a magic world.
Our first show was on the Drury Creek stage at 10:30, with an afternoon show on the main stage. One of our band members refused to go to LA, so I got a friend to help out. The performance stunk and everything fell apart in the middle. No one except me showed up for the show on main stage. Ron Patterson kindly said that since I had good costumes and a tolerable fake English accent I could stay on as an actor. I carried a banner in the Queen's parade, sold visitors "magic beans" that I had got from a guy named Jack, and thus began my career with the Fair. I remember my favorite thing to do was to get up early and watch the faire wake up, listen to the roosters crow, watch everyone roll out of the hay and try to get going after a night of carousing. I was 19 and it was 1973.
At the following northern and Dickens Faires I was an actor, goofing around, kissing girls, admiring the giant puppet shows put on by Chris and Laura Hardman, Patty Farber's Balkan dance troupe, and the singing of Ricky with his long blond braids. I attempted to make enough money to eat and pay for gas on two food tickets a day by perfecting the human marionette show with a fellow "actor", Sabin Silberman (who I met while playing clench-a-wench, an after hours game led by Roger "tug a war" Wilson, where a line of girls faced a line of boys with one in the middle, I'm not sure exactly how it worked, but I was supposed to kiss the girl before the other guy did or else I lost). But at that time there was no actors camp: we slept on hay bales, and stashed our stuff behind some stage. I wanted to have a booth.
Steve Marisch, the coordinator for actors, was also in charge of activities. He said the Faire needed activities to maintain their status as a living history center, so if I could think of an activity there was a good chance I could have a booth (since I had a good costume and spoke fake old English). I was writing fairy tales at the time which led to the idea of making a book with four beginnings, four middles and four endings. and teaching visitors how to bind my story into a book. Steve liked the idea, so I had to learn how to bind books. I went to the library, found a book, followed the instructions, made a tolerable little book, showed it to Steve and was accepted. So I had my first booth Southern faire in 1974. Everyone always commented that I was the youngest booth owner. I didn't feel that young
I realized I had to know more about bookbinding, so I went back to the library. The book I had used was checked out, but right where it should have been was a book on papermaking. In it I read that the first paper mill in England was set up in 1492, "That's perfect" I thought. I will teach people how to make paper too. I tore down a dilapidated garage, and used the wood to make my booth, a single room structure about 12 by 16 feet over the creek near witches wood. Just after opening on the first day an overweight family of three came into my booth and the floor collapsed. I spent the rest of the day trying to fix it. It was hard getting people to take lessons, and I didn't make enough money to pay my minimum I had to pay, so as the faire closed I ran out and sold magic beans until I made enough to settle that debt. Not a very auspicious beginning.
One of my friends at the faire was Carol Kleyn, a beautiful blond girl who played harp. For some reason she was not allowed in the faire, so she played for the crowds outside the front gates as they came and went. She was the one who gave me my name. She wrote a song about me giving up the actors life and getting a booth, and in it called me Peter Papermaker. It stuck and for around fifteen years that was how everyone, everywhere, knew me.
I loved building booths, and made substantial structures out of burlap and wood, always with a tree house. Willy Brewer of night security taught me how to lash ropes to trees, so I didn't need nails. I won a bunch of booth building awards. During the weeks between faire I lived in my booth, part of a small community of crafts people who lived at the other end of the state and couldn't easily go home. At southern Faire I remember Steve and Alice Peterson of Apple Dolls who lived in Santa Cruz, and gave me rides home, Kenny and Kathy Bortalazzo (he made metal sculpture and puzzles out of brass, she made beautiful clothes with this special shiny soft velvet) Jay O'rourke and his wooden bowls and cutlery, Gregg Tritt who made brooms, Chris Miller who could make anything. My second booth was right across from Don Brown. It was one of his first booths, he was always needing more handmade paper to write signs on. He gave me free chai for life for all the paper I gave him. I don't think he had any idea how young I was, how long we would both live and be part of the faire, and how much chai that would be.
I fell in love with so many faire maidens. One of those girl friends was an artist, and wanted to make a blank book out of the paper we had made. As soon as it was finished some visitor asked if it was for sale. This started my career selling blank books. It was the year of the eclipse of the full moon. I remember the whole faire stayed awake all night watching. There were chimes and gongs rang in circles around the faire, Mark Lewis told a story. I stopped teaching bookbinding lessons but kept teaching how to make paper. This required lots of help, beautiful girls if possible. One year I was near the kissing bridge and had these two helpers, Mandy and Amanda, and they kissed this visitor, Adam (Juggling School) Reid, who asked if he could also be a papermaker. I remember the identical twins we had making paper or Daniel Fayhe, with his spaced out eyes and long braided beard, Rob and Rosemary Stone at Southern. All of them wore these funny pointed caps I had crocheted from wool I spun at the Sheep to Coat booth during the weeks when we were doing Workshop in the Woods. There was also Jim and Sally who kept doing the booth at northern faire. Whoever was making paper became Peter Papermaker for a little while. One day, about five years after they had taken over, Jim helped a guard take care of some lady who had passed out because of alcohol and the heat. Later in the day the guard returned to the booth and said to Jim, "Hey Peter, thanks for helping us out." Jim was so mad. "Five years and I am still Peter Papermaker."
I met Donna (unrelated to the faire) and invited her to come help at northern faire (she was going to Sonoma State). It turned out Donna could make books as fast and as well as I could. We started making cloth bound books, then velvet, then books with an oval out of the front, and a card placed behind the frame that was created. I used romantic fairy tale images by a German artist named Sulamith Wulfing. We won a belt full of masterpiece awards for our work, mostly because there were no other papermakers or book makers to compete against us, but still we take pride in having received those awards and remember the fun of going up on the main stage during the Queens show to receive our honors. We had been selling these books for about seven years when the Faire decided we could not use cards printed by someone else any longer, so could not sell those books. I thought I might quit. I told Phyllis. She replied that she could always find another papermaker. I didn't think she could, but I dealt with it and it worked out ok. We began to make leather bound books, and got tons of practice working with leather, a skill has which served us well in creating our books-as-art.
The Faire was always changing its rules. First we could wear purple then we couldn't. Then it was certain colors of blue, then it was hats and shoulders showing and then fairy princess were outlawed. What was "Period Correct" seemed to change from year to year. That was hard to deal with. We also began to make velvet books with padlocks on them. People loved these just as much as the old "window books"so life was fine. We made friends. Rainbow, who at the time made wooden buttons, Dan and Laurie Hennig the potters, Brendon Smith, Jamie and Jack, all leather workers, Bob and Gunnell Lynn and their family, Buck and Margaret- she was a jeweler and he did a funny weight lifter show, the two Dicks of Unicorn oils who had done every faire since the beginning. we had caterer friends, the cookie jester, Tommy and Horace at Cheesewitz, John and Lois with French Onion Soup at Dickens to mention a few. Donna got rides with Owen and Paul the weavers from Sonoma, or Fran and Robert Crawford (Light Touch Lapidary), Duffy with his wooden spoons, Yerba Santa with her string bags, Joan and Sal Guardino. We were a fixture of Printmakers Row.
In 1978 we got a gypsy wagon VW van from Chris Miller's brother and in 1983, when Tanya and Suzanne were born, we built a gypsy wagon to use for our booth. The wagon was fun to have and complemented the others at the faire: Jill Seawright Ceramics, Gary Taylor (Bota Bags) and Edward and Joan Merifield (the Egyptian pyramid display cases and jewelry) all had great wagons. Gary Taylor was often our neighbor at southern faire. He partied so much, and so loud, that we were always throwing things at this booth to get him to quiet down-so he wouldn't wake up our daughters. He would throw back bota bags in retaliation. We still have a lifetime supply of them with our faire stuff.
We did all the Dickens Fairs except the disastrous one in Sacramento. My personal favorite was the one at the Fox Theater in Oakland. It was such a great old building with the big gold Buddhas. Whenever the queen came through everyone would sing Rule Britainia. we would all stomp our feet at the appropriate moments and the whole building would shake, from the creepy tunnel things underneath where we had to go to find the things that fell through holes in the floor to the upper tiers where Fagen held court. Tanya was learning to crawl at the Fox and one time crawled up on the stage before we noticed. She was fine. People took care of each other.
In college I began letterpress printing and making books as artwork. In 1982 we printed our first miniature (under three inches) book and were present when the Miniature Book Society was founded in Ohio. The Miniature Book Society held their meetings on Labor Day and so we would miss one weekend of the Faire a year. Our lives began to change. We began to focus more on making our printed book-as-art books. In 1987, along with Michael Kimber and Richard Sneed (a faire visitor and photography enthusiast), Donna and I produced the color photo book called, The Faire. It was going to be the last year of southern faire, and though there had been many previous last years of the faire, I knew that the end was near, and I wanted to document what we had there.
Those were the hard years for the crafts people. There was a contentious crafts coordinator who made up new rules and gave no slack. No one likes change. Between her rules (we had to pass history tests to get our passes) and the change from Agoura's oak trees to San Berdino's fake trees and bleak setting I found myself more interested in staying home and working on my printed books than doing the faire. I only did two weekends at the new site. It was hard to leave the faire and my friends. I kept doing the Northern Faire for several years, but then some time in the early 90s I stopped working the faire completely. I would visit the northern faire once a year, and I did a weekend or so during the last two final years at the Novato site. Now we make printed books which sell to libraries, museums and private collectors. I am also active in the national and international organizations for hand papermakers. I have made several books about aspects of the history of papermaking, one documenting the life of a 92 year old man who had been a papermaker since he apprenticed as a child.
I really love the faire. I learned my craft there. I grew up there. I have a family of friends there and I make new friends each time I visit. I couldn't quit. This year I did the Santa Barbara faire. I was right across from Don Brown's coffee house. It was like a ten year high school reunion. It was so much fun. It was the best faire in the world.