Walking I Remember Myself
One-of-a-kind book by Donna Thomas. 2019
Peter and Donna Thomas: Santa Cruz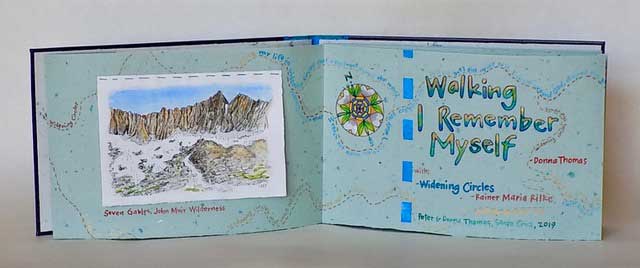 Walking I Remember Myself. (2019) Text by Donna Thomas and Rainer Maria Rilke (from Wandering Circles). 12 accordion pages. 9.25 x 14.25 inches. $2,800.
Binding: Case bound accordion, quarter bound with green, black blue leather spine and dark blue leather covers, elk bone carved by Donna with image of a bird inset on front cover. Clamshell box: green cloth with black leather spine, title painted on label on front cover, lined with blue handmade and marbled paper. Paper: Green handmade paper by Peter Thomas. Marbled paper from Bikupan. Typography and illustration: Text and illustration hand painted on accordion pages, 4 watercolor paintings sewn to pages, by Donna Thomas. Notes: Rilke's poem "circles" like a "wandering" trail around Donna's written poem about walking.
Artist's statement and notes:
began the text of this book with a quote from a Pacific Coast Trail hiker I met while backpacking who said to me "I am not going to let the trail GET me." She saw her thru hike and the Sierra Nevada as something that needed to be beaten, or conquered, rather than something to embrace and become a part of. Rilkes' poem talks about giving yourself to a place, and seeing yourself as part of a greater universe. I go to the Sierra because through walking and painting in that beautiful place, I feel this harmony and connection. My poem is a response to that backpacker's goal-oriented approach to backpacking and hiking. When I backpack my goal is to see how I can "let the trail get me," to find ways to let the Sierra nurture and heal me, and find ways to be a part of the nature I am passing through.