Field Flowers
One-of-a-kind book by Donna Thomas. 2019
Peter and Donna Thomas: Santa Cruz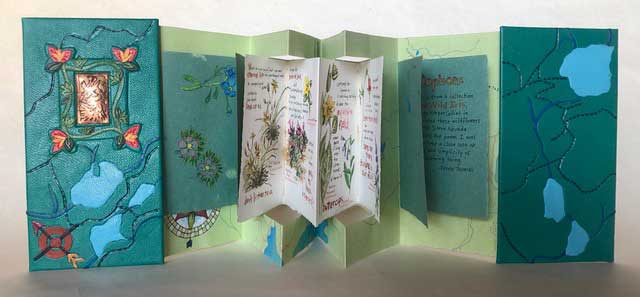 Field Flowers. (2019) Text by Louise Gluck. 10 outer accordion pages, 4 nested accordion pages, two 4 page folios. 9 x 4.75 inches. $2,600.
Nested accordion binding. Front and back covers full teal Oasis goat leather, tooled and painted multi-colored leather onlays on both covers, raised copper and brass medallion with image of a columbine flower (made by Donna Thomas) on front cover.
Outer accordion made using light green paper (handmade by Peter Thomas) laced together with dark green handmade paper strips before folding. Maps and compass rose painted on the accordion. Folded sheets: dark green handmade paper stitched into first and last valley folds of accordion, painted with title page, maps, and colophon. Inner accordion: white paper (handmade by Peter Thomas) painted with text and 6 illustrations of flowers. (Inner accordion painted plein air in the Sierra Nevada by Donna while backpacking.)
Clamshell box, gold cloth cover, green handmade paper spine and sides, handmade paper and paste paper insides
Artist's statement and notes:
While I was backpacking last summer, I read a New Yorker article about atheism. It talked about how some people are atheists because they just aren't interested in indulging in ideas and systems beyond what we find here on earth and at this point in time. This poem by Louise Gluck was mentioned so I searched for and read it online (I had reception in the backcountry!). The poem is written from the point of view of the flower, asking essentially why would you want more than this, and isn't it enough to wonder at this beautiful world without concerning yourself with an idea of heaven or afterlife? I then spent the day painting the "field flowers" around my campsite, on the paper that I then used for this nested accordion fold book.