Sierra Trout
One-of-a-kind book by Donna Thomas. 2020
Peter and Donna Thomas: Santa Cruz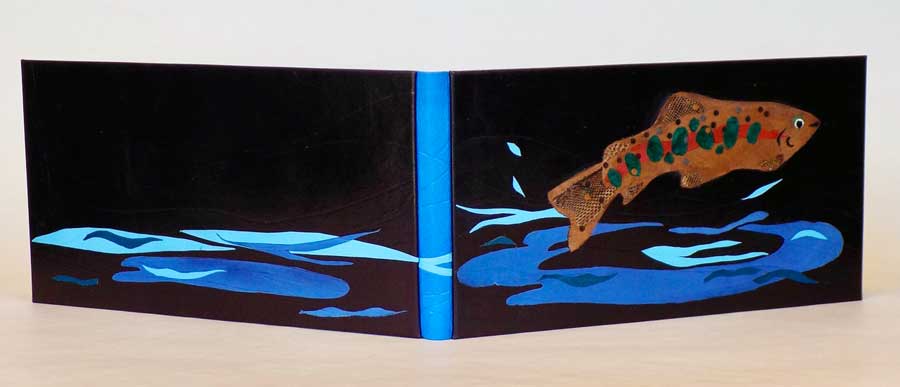 Sierra Trout. (2020) Text by Donna Thomas, Mary Hunter Austin, Izaak Walton. 14 accordion pages. 7.75 x 14.75 inches. $3,100.
Full leather binding, deep blue calf covers, blue goat spine, leather onlays of trout leaping from a stream across front, spine. and back covers. Marbled paper endpages.
Accordion made using pieces of light blue paper (handmade by Peter Thomas) that were stitched together with blue thread before folding. Texts, maps, and compass roses are hand painted on accordion pages. Nine fish shaped pieces of paper painted with images of trout, plus 6 watercolors paintings (painted by Donna Thomas, plein air in the Sierra Nevada while backpacking), stitched to accordion.
Clamshell box, full blue calf with bas relief image of trout and paper label with title on front cover.
Artists' statement and notes:
This book celebrates the beauty of the Sierra Nevada, its rivers and lakes, and the trout that live there. I had backpacked before with fishermen and women, and had enjoyed the bounty of their catches, and in 2019 I decided to take up fishing and brought a pole with me to the Sierra. The book combines a poem I wrote while backpacking, with passages written by Mary Austin and Izack Walton. Austin describes how water melting from high country snow finds its way to make the streams and rivers that hold the fish, and notes that fish are not always where one expects to find them. Walton shares the joys of catching a fish. My poem describes a lazy day backpacking, from the morning, waking with bumblebees and wildflowers, to dusk as I watched trout make circling ripples in the still evening lake waters.
The book also has an conservation/preservation component, sharing a story told by one of my companions, who in his youth "stocked" Sierra lakes with trout to be future summers catches, only to find out later that those very trout had eaten the native red legged and yellow legged frogs almost to extinction, and had cross bread with the native trout making it harder and harder for him to tell what kind of trout he was catching.
The landscape paintings I included were made on trips with companions who were fishing, and images of fish were those caught by my companions. Most of the fish were caught, photographed, then released back into the water, but we ate some too. I cut out paintings I made of the trout into fish shapes, hinging them to the page, so as the reader opens and closes the pages the fish seemingly jump, and are caught with a "fishing line" of thread I attached to their mouths.