The Beauty of Things
One-of-a-kind book by Donna Thomas. 2022
Peter and Donna Thomas: Santa Cruz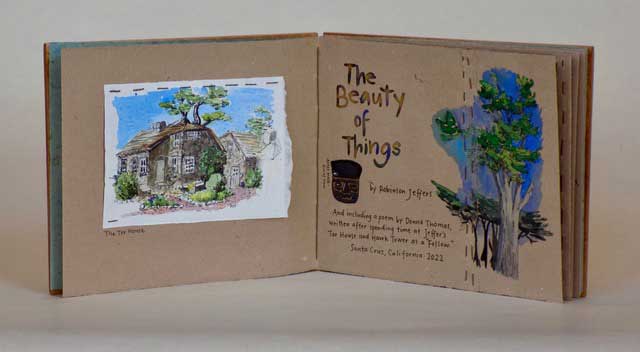 The Beauty of Things. (2022) Texts by Donna Thomas, Robinson Jeffers. 14 accordion pages. 7.75 x 8.875 inches. $2.400.
Coptic binding, Monterey cypress boards, granite block framed on front cover.
Accordion made using brown paper folded to allow for coptic sewing, and stitched before folding to blue-green-grey end pages (handmade by Peter Thomas).
Hand painted text, hand painted map of Tor House compound, 5 illustrations of objects on compound painted on accordion, 5 watercolor illustrations, painted plein air by Donna Thomas at Tor House, stitched with thread to accordion.
Clamshell box, brown cloth covers and spine, brown handmade paper sides and lining paper, paper label with title inset on front cover.
Artists' statement and notes:
This book juxtaposes a poem by Robinson Jeffers with my own writing and illustrations. Jeffers' poem talks about the duty of a poet (and artist) to understand, feel and express all that is beautiful in nature. Even today, Jeffers' poems succeed in helping readers to see this beauty. In January 2022 I spent several days in residence at Jeffers' home as a Tor House Foundation Fellow. Exploring around the residence I found artifacts from around the world that Jeffers had embedded in the concrete walls and pathways. As I sat and painted I could not help but see this as a form of cultural appropriation, and I didn't want to believe that Jeffers knowingly participated in stealing pre-Columbian terra cotta heads, or Irish tombstones or native American grinding mortars and pestles. I wrote a poem in response to my feelings about this, which along with the paintings I made while a fellow, I have paired with Jeffers' poem in this book. i see one of the functions of art being a way to present opposing viewpoints that doesn't aim to convince the reader of one side or another, but rather elevates the level of discourse about the subject, leading the viewer to a better understanding of the strengths and weaknesses of both perspectives. I hope this book achieves that goal.