Sweet Spot
One-of-a-kind book by Donna Thomas. 2020
Peter and Donna Thomas: Santa Cruz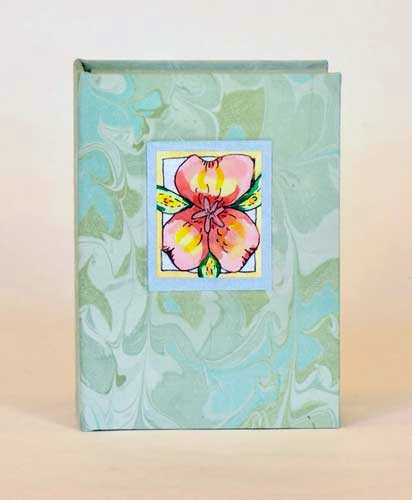 Sweet Spot (2020) Texts by Donna Thomas, Mary Austin, Ina Coolbrith, Emily Dickinson, Dorothea Lange, Ellen Meloy. 6 booklets, two panels in a clamshell box. 4.5 x 3 inches. $1,200.
This artist's book is made up of 6 unbound cut and folded single sheet books, and two cloth covered panels, one with the title and the other with the colophon. Each book has hand written text and hand painted illustrations. Each book is made from a single sheet of paper that has been cut and folded in a different manner, to demonstrate some of the ways a single sheet of paper can be used to make a book.
Clamshell box, marbled cloth covers and sides, handmade paper liner, paper label with painted image of flower inset on cover.
Artist's statement and notes:
This idea for this collection of artistís books began when I was asked to create a series of single-sheet folded books to illustrate an article Peter was writing for the Bound and Lettered Journal, describing a consistent nomenclature he developed to describe the different cut and folded single sheet books. All of the books were to have the same final folded size, but because each would be cut and folded differently, the number of panels and their orientation would be different in each book. This concept of similar but different, coupled with my interest in nature and botany, lead to my decision that I would make each book what a different woman had written about a similar subject: nature. I would let the structure and page orientation lead my decisions for choice of text and how I would write and illustrate it. The title of the collection of works, Sweet Spot, is also the title of the book that has a text I wrote about when I am backpacking, and when I am least expecting it, I find that special place in the wilderness that turns out to be just what I needed, whether it is protection from an incoming storm, a great swimming lake, or a majestic sunset view from camp.