Solo
One-of-a-kind book by Donna Thomas. 2022
Peter and Donna Thomas: Santa Cruz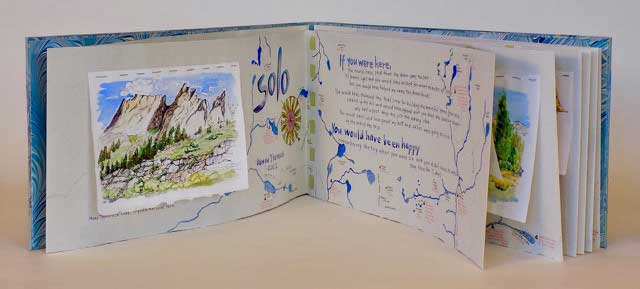 Solo. (2022) Text by Donna Thomas. 14 accordion pages. 9.25 x 18.25 inches. $2,800.

Case bound accordion, green/grey watermarked paper (handmade by Neil Bonham at the Sea Pen Press) over boards, blue Oasis goat leather spine, leather laced through paper parallel to spine on front cover.

Accordion made using grey-blue paper (handmade by Peter Thomas) and blue-grey end pages (marbled by Pamela Smith) laced together with green handmade paper strips before folding. Text, maps, compass roses painted on accordion,12 watercolor illustrations, painted plein air by Donna Thomas while backpacking solo in the Sierra Nevada, stitched with thread to accordion.

Clamshell box, blue cloth covers, spine and sides, handmade paper inside, paper label with title inset on front cover.

Artists' statement and notes:

I have been backpacking in the Sierra Nevada since I was 10 years old. I take week-long and month-long trips every summer. Sometimes I hike with companions and sometimes I hike alone. I wrote this poem while I was solo backpacking in the back country in Yosemite. On this particular day everything I saw and felt reminded me of past trips, and of the people I had spent time with backpacking. I thought about the camaraderie those people brought to our backpacking trips and to my backpacking life. I did not feel lonely. I love backpacking solo. I love the freedom of being on my own, to find and experience what is out there for me. I just felt grateful for all those backpacking partners, and the places and experiences we had shared.

My poem, and this book, were created to express my gratitude for the opportunity to backpack in the Sierra Nevada, gratitude that my parents took me on trips as a child, gratitude that I am still physically able, and mentally prepared, to hike alone. The paintings are ones I made on that solo trip. I made this book the following winter, presenting them in this very wide landscape format so that when it is opened, the double spreads give the reader the feeling of a long trail and of the vast open spaces of the Sierra.