Life from the Lifeless
One-of-a-kind book by Donna Thomas. 2022
Peter and Donna Thomas: Santa Cruz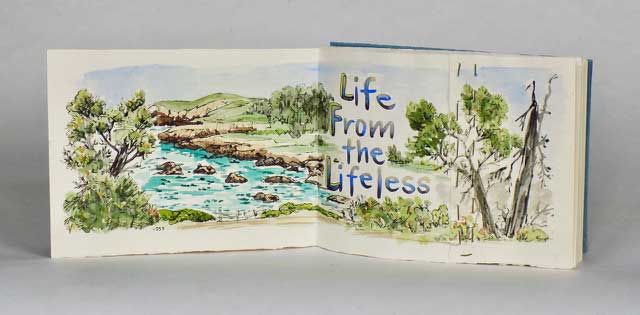 Life from the Lifeless. (2022) Texts by Donna Thomas, Robinson Jeffers. 17 accordion pages. 8.37 x 7.25 inches. $2,400.
Coptic bound, Monterey cypress boards, carved and inked woodcut of Point Lobos landscape on front cover.
Accordion made using off-white paper and blue/grey end pages (handmade by Peter Thomas) stitched together before folding. Hand painted text, 5 landscape illustrations and 8 flower illustrations, painted plein air directly onto the pages of the book by Donna Thomas while at Point Lobos State Park, Carmel, California.
Clamshell box, blue cloth covers and spine, blue/grey handmade paper sides and lining paper, paper label with title inset on front cover.
Artists' statement and notes:
I read this poem while in residence as a Tor House Fellow in late January, 2022. Surrounded by the rock Jeffers had used to build his Hawk Tower and home, I gained a deeper sense of what he was writing about in the poem: how rock and sea are permanent and enduring when compared to the transient lives of plants and animals, and the ignobleness of humankind. Later that day I went for a hike in Point Lobos and looking back across the Carmel bay at the Jeffers' home, I saw the truth in his poem, and planned to return to Point Lobos to make a book using that poem. In my studio, before I returned, I folded and stitched paper into an accordion and wrote out the poem. My plan was to paint on the actual pages of the book, rather than sew in paintings as I had most often done in the past, and I took that start of the book with me when I returned to Point Lobos a month or so later. It was mid-March by then and the season had changed, the first spring wildflowers were blooming and birds were calling for mates. As I started to paint I saw the cycle of nature, (spring, summer, fall and winter - and what they brought every year - new life, growth, full bloom, and wilting, then to be reborn again the next year) was as steadfast as Jeffers saw the rocks and sea. The painting in this book documents my new understanding of Jeffers' poem.