Poetry Santa Cruz and the Santa Cruz County Office of Education present the
23rd Annual Santa Cruz County High School Poetry Competition
The Submission postmark Deadline is extended one week to Saturday, March 26.
Each year the High School Students of Santa Cruz County are encouraged to write poems and enter them in the annual competition. Poetry Santa Cruz is conducting the Competition in coordination with the Santa Cruz County Office of Education, the county's high schools, and with volunteer support from members of the community. The authors of the three poems judged best will receive cash prizes. An anthology will be printed with the approximately 50 poems selected by the panel of judges.
What students need to know to enter the Competition:
• You must be a high school student and residing in or attending a school in Santa Cruz County.
• You may submit up to 3 poems.
• Poems in English and Spanish are welcome.
• Poems must be typed. Hand-written poems will not be accepted.
• To ensure that each poem is judged strictly on its merit, your name must not
appear on the same page as the poem(s) you submit.
• A panel of three judges will determine the winning poems.
Therefore, send us three copies of each poem you submit.
• Because the poems will represent our county high schools, we ask that the language of all submissions be appropriate for publication and reading in schools and in the wider community.
• Submit with your poems one Title Page with the following information on it:
- Your name, phone number and mailing address
- Your teacher's name and your school's name
- The titles of the poems you submit.
• If possible, save a computer copy of your poems. When the judges have made their decisions we will ask the students whose poems have been selected for the anthology to email those poems to us.
The Postmark Deadline for Submissions is extended to Saturday, March 26, 2016.
• Include the Title Page and the three copies of your poem(s) in one envelope and mail by Saturday, March 26, 2016 to:
Poetry Santa Cruz
High School Poetry Competition
P.O. Box 259
Santa Cruz, CA 95061-0259
Questions may be addressed to Len Anderson at len@poetrysantacruz.org or 831-464-8983.
Click on this link to download the Call for Submissions flyer (PDF, 246KB).
Click on this link to download the Title Page form (PDF, 55KB).
Judging results are expected April 24-27. The Awards Ceremony and Reading by those appearing in the Anthology is planned for Wednesday, May 18.
See the High School Poetry Competition page on Facebook for poetry writing prompts. Click on the link just below: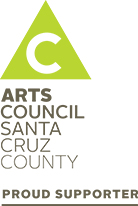 Poetry Santa Cruz events are supported, in part, by a grant from Arts Council Santa Cruz County.
Some events are supported by matching grants to our readers from Poets & Writers, Inc.
Poetry Santa Cruz is also grateful for the support of its members and donors, In Celebration of the Muse, and those who donated in memory of Maude Meehan and Kathleen Flowers. The William James Association acted as our fiscal sponsor for our first four years. Our readings are supported by Bookshop Santa Cruz, Capitola Book Café, Darling House, The Santa Cruz Museum of Art & History, Cabrillo College, and KUSP. Membership premiums have been donated by Graywolf Press, the University of Pittsburgh Press, Robert Sward, Coffee House Press, Copper Canyon Press, and Farrar, Straus and Giroux. A voluntary donation of $3 may be requested at venues where collection of donations is permitted.
---
Events | Authors | Interviews | Books | Resources | About PSC
© Copyright 2001-2016 | Poetry Santa Cruz | (831) 464-8983