The Wandering Book Artists' Gypsy Wagon
We built our gypsy wagon to take a road trip as Wandering Book Artists .
Here is a link to the blog for that trip http://www.wanderingbookartists.blogspot.com/
PETER & DONNA THOMAS


260 Fifteennth Avenue Santa Cruz CA 95062 (831) 475-1455
peteranddonna@cruzio.com
This page links to photos that document the construction of our gypsy wagon, and photos that show finished exterior and interior details.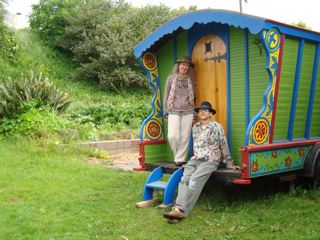 If you want would like more information about gypsy wagons in general, here is a link to a site that lists most of the online resources:
http://www.enslin.com/rae/gypsy/camps.htm
Peter and Donna Thomas are book artists, who live and work in Santa Cruz, California but also travel around the country as "Wandering Book Artists" in their "Gypsy Wagon Artist's Bookmobile." Their journey to becoming wandering book artists began in the 1970s, when, dressed like Robin Hood and Maid Marion, they sold blank books at the Renaissance Pleasure Faires in California. They constructed a small gypsy wagon to use as their booth, a colorful and charming vehicle that they always dreamed of taking on a road trip around the country. But pulling that wagon was a white-knuckle adventure…it wobbled and rocked like a ship at storm. That wagon served them well for many years, until 2008 when it burned in a wildfire, leaving only a pile of melted metal and memories. They cleaned up the wreckage then, with the assistance of Raucina Cabinets in Midpines, CA, they started building a new and more roadworthy trailer, modeled after a "Reading" wagon, one of the many styles of horse drawn homes, or vardos, made for Romany travelers in England during the late nineteenth and early twentieth centuries.
They used vintage pictures as bluebprints and constructed it on a 16-foot flat bed car-hauler trailer. The exterior studs and siding are poplar, the roof is copper, the interior is sugar pine (cut and milled by Raucina) and the ceiling is Yosemite giant sequoia. The exterior is painted with bright bold colors. It has heavy wrought iron hardware, stained glass windows, flowers and birds carved into wooden corbels, with herald angels in place of gargoyles at each corner. Inside is a single open room with a propane heater, cook stove, sink, and retractable workbench/kitchen table. At the rear there is a curtained-off bed covered with a pile of patchwork quilts.
When asked what a book artist is, they say " A book artist is a person who make books as their art work, like painters make paintings." Peter and Donna make their own paper, hand draw or letterpress print the pages, then bind the book. Peter uses the gypsy wagon as a metaphor for an artists' book, saying, "When you look inside a regular RV what do you think? Usually nothing, or, 'How practical.' But when people see our gypsy wagon they get excited, curious, and some-thing magical happens." Commercially produced books are like regular RVs, practical and full of information. Artists' books are like our gypsy wagon: they inspire the imagination and create wonder, and share something of the artist who produced them."
---