Scroll down for event information
The Cabrillo College English Department, Poetry Santa Cruz and
Amber Coverdale Sumrall & Dena Taylor present the 33rd and final
In Celebration of the Muse

Saturday, March 7, 7:30 PM, Erica Schilling Forum 450, Cabrillo College, 6500 Soquel Drive, Aptos
featuring 17 local women authors: Danusha Laméris, Tilly Washburn Shaw, Adela Najarro, Ellen Treen, Kate Hitt, Kim Scheiblauer, Farnaz Fatemi, Laurel Tanza, Robin Somers, Lisa Simon, Jeanne Wakatsuki Houston, Patricia Zylius, Carolyn Brigit Flynn, Clifford Henderson, Shirley Ancheta, Patti Sirens, and Lisa Allen Ortiz.
• Admission: suggested donation $10, Cabrillo students $5. Advance tickets are available until Saturday, March 7 at 3:00 pm at
Bookshop Santa Cruz, 1520 Pacific Avenue, downtown Santa Cruz,
and at Poetry Santa Cruz events.
• Doors open for seating with tickets and any other available seats at 7:00 PM. Donations accepted via cash or check.
• Erica Schilling Forum 450 is on the northwest part of the campus, above Soquel Drive. Parking lots D, E, and H are the closest to Forum 450.
[ Mapquest Map ] [ Download the Cabrillo Aptos campus map ]
• In Celebration of the Muse 30th Anniversary Anthology is the 2013 chapbook, presenting one poem or short piece of fiction by each of the twenty readers for the 2012 reading. This and other books by the readers will also be available for purchase with cash or check.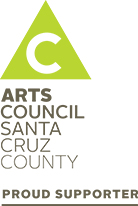 These events are supported, in part, by a grant from Arts Council of Santa Cruz County. Some events are supported by matching grants to our readers from Poets & Writers, Inc.
Poetry Santa Cruz is also grateful for the support of its members and donors, In Celebration of the Muse, and those who donated in memory of Maude Meehan and Kathleen Flowers. The William James Association acted as our fiscal sponsor for our first four years. Our readings are supported by Bookshop Santa Cruz, Capitola Book Café, Darling House, Cabrillo College, and KUSP. Membership premiums have been donated by Graywolf Press, the University of Pittsburgh Press, Robert Sward, Coffee House Press, Copper Canyon Press, and Farrar, Straus and Giroux.
---
Events | Authors | Interviews | Books | Resources | About PSC
© Copyright 2001, 2015 | Poetry Santa Cruz | (831) 464-8983